Invitation to a concert accomponied by videos of our montage students
at GUC Media Design Department: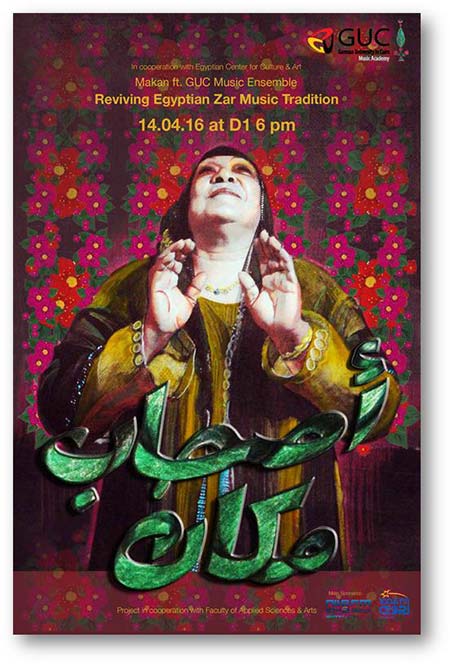 Watch some video teasers here!
Celebrating and reviving our Egyptian musical heritage, the GUC Music Academy in cooperation with Egyptian Center for Culture and Arts – Makan are presenting an unforgettable night, where East meets West, Orient meets Occident, a phenomenal evening with extraordinary musicians, who have practiced the art of Egyptian folkloric chants and Zar music for generations.
The concert will feature the results of a workshop between Mazaher Ensemble & The GUC Music Ensemble with the focus on fusion music, followed by the classic & unforgettable performance of Mazaher!
Video projections produced by the Media Design Departments 6th semester – Montage Course will accompany the performance on stage and add an extra level of sensual experience. Sound will become visible, images audible.
The Montage Course at the Media Design Department is supervised by Magdalena Kallenberger, Maria Mohr & Abla Mohamed.
Concert will be preceded by an exhibition and sound installation.
The project is in cooperation with GUC Faculty of Applied Sciences and Art.
Special thanks to:
Dr. Ahmed El Maghraby – Makan, Founder & Director
Dr. Steffen Scholl – Sound Design
Magdalena Kallenberger – Media Design
Agnieszka Michalczyk & Phillipp Paulsen – Graphic Design
Poster designs and exhibition beautifully prepared by Shahdan Sherif
Main sponsor: Nile FM
Non GUC guests and alumni are required to register here for free of charge entry
Entry from Gate 1, presenting a form of identification is necessary at gates.
Find GUC here!